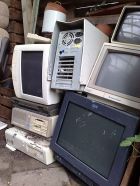 Recycling waste for rare earth metals
An innovative recycling programme aims to both reduce electronic waste and recover critical rare earth metals through recycling of flat panel displays (FPDs).

How to find your dream job using social media?
If you want to use social media to target employers, your profile should match how you want to be seen in public and your accounts should be tailored to your target audience, like a CV.


3. Mobility in vocational education and training (VET)
Mobility abroad can help young people in vocational education and training to gain the skills needed for today's competitive employment market.