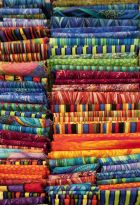 Turning plants into textiles
Researchers are using low-value plant raw materials to produce bio-based synthetic fibres for the textile industry in a cost-competitive, energy-saving, and environmentally sustainable process.

Answers to interview questions
Prepare well for the range of questions that might be covered. Most questions are likely to focus on your experience, skills and motivation. Persuade your interviewers that you are very motivated to get the job. Tell them about how your strengths and interests match those that the employer is seeking. Answer questions fully but concisely. Speak only about facts that may be of interest to the employer. Be polite, honest and professional. Never lie.

5. Staff and youth worker mobility
If you are a teacher or you work in an enterprise, you can teach at an institution abroad, gaining new professional perspectives, widening your networks and helping to modernise and internationalise Europe's education and training systems.