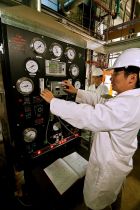 New route to produce liquid fuels
An EU-funded project paved the way for more sustainable production of fuels and petrochemical products that have hitherto stemmed from crude oils.

Applying for job
Follow the procedure for applying described in the job advert. Some companies ask candidates to apply with a CV and a covering letter. Others provide an application form that should be com­pleted fully.

3. Mobility in vocational education and training (VET)
Mobility abroad can help young people in vocational education and training to gain the skills needed for today's competitive employment market.